BOSS High-level Offshore Cruising
This unique course takes you beyond the ASA and Sail Canada Offshore Cruising standards, learning high-level cruising skills on a performance yacht in the southern Caribbean.  It includes extensive online training in advance of the on-water component.
Next offering:
Online component begins:  January 1, 2024
On-water component: February 11-17, 2024
Participation fee: US$4,500, plus certification fees (if any).
Target participants
The course is designed for people:
who are interested in earning ASA 108 or Sail Canada Offshore on a high-performance yacht
OR
who already have completed ASA 108 or Sail Canada Offshore and are looking to built their skills even farther
OR
who have at least some offshore experience, may or may not have any certifications, but want to become the best offshore cruiser they can be
What are the features that make this offshore course unique?
You will be sailing in and around the Grenadines on a performance yacht capable of 12-15+ knots, covering approximately 500 miles offshore
You will gain experience handling performance sails and steering a boat that sails faster than you may be accustomed to
You will obtain hands on experience using advanced weather routing platforms as used by ocean racers

You will learn about tropical clouds and their impact on navigation and decision-making

You will learn how to effectively use all the advanced electronics on the boat

You will gain experience manning continuous day and night watches
Through briefings and simulations, you will learn how to handle various offshore emergencies, including MOB, fire, dismasting, abandon ship, etc.
You will practice emergency navigation techniques that are essential to know if your electronics were to fail while offshore
You will implement sustainable cruising best practices throughout the week
Itinerary
While the specific itinerary is subject to weather, the course will begin and end at the Barefoot base in Blue Lagoon, St. Vincent. Beginning on a Sunday, the first two nights will be spent at anchor or moored in the Grenadines, while participants learn the knowledge and skills necessary for the offshore passage.  After the second night, we will head offshore for 3 days of continuous offshore cruising, which will likely include looping around Barbados before returning to the Grenadines. The final night will be in Bequai, before returning to Barefoot's base before noon on Saturday.
Certifications
Participants will be awarded a certificate of completion from BOSS, plus any  ASA or Sail Canada certifications earned on the passage.
Your instructors
This sailing adventure is led by a uniquely-qualified team of instructors: Phil Barnard and Rob McLean.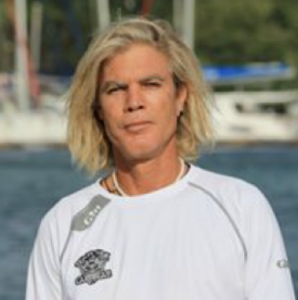 Phil Barnard is the Managing Director of Barefoot, and continues an active career as a professional racing sailor, having participated in almost all of the best-known ocean races during the last 30 years. He combines encyclopedic knowledge of the Caribbean and the Grenadines with extraordinary knowledge of racing and cruising boats and gear.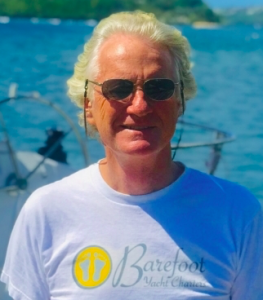 Rob is the only Offshore Cruising instructor certified by both ASA and Sail Canada, is a Sail Canada Senior Instructor Evaluator as well as an ASA Master Instructor, and is Lead Instructor for BOSS. In 2021, he completed a 7000 mile passage from Canada to St. Vincent and the Grenadines on his square-rigged schooner, and in 2022 led a 5,400 mile instructional delivery on a catamaran from Croatia to St. Vincent
Pricing has two components: the Base Participation Fee, and Certification Fees based on the certifications sought and earned during the passage, if any.
Base Participation Fee
The Base Participation Fee includes:
Shared accommodation on the yacht for the length of the passage.  Given the nature of an offshore passage that requires continuous watches, this may include sharing a berth, hot-bunking, sleeping in the salon, etc.
Provisioning: breakfasts, lunches and dinners for the length of the passage, non-alcoholic beverages, some basic snacks
Yacht running costs: diesel, water, etc.
Access to instruction throughout the passage
The participation fee does not include:
Pre-course coaching, marking assignment or exams, processing ASA or Sail Canada certifications, ASA or Sail Canada Membership
Travel to or from SVG
Personal snacks (since only you know your snacking preferences!)
Provisions or dining ashore while in port
Cleaning / disinfection fee of $250 per person
Alcoholic beverages while in port (consuming alcohol will not be permitted while at sea).  Recreational drugs are not permitted on board
The participation fee can be paid in installments: 50% on booking, and the balance 45 days in advance of the start date of the course.
Certification Fees
Details on certification fees are here.
Crew Agreement
Participants in an offshore passage are required to enter into a Crew Agreement that outlines the mutual responsibilities of the crew and instructor (Master) on the passage.  Details will be shared with you before you book your participation.