Barefoot Offshore Sailing school (BOSS)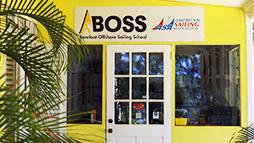 Barefoot Offshore Sailing School (BOSS) is St Vincent and the Grenadines' longest established, premier, sailing school offering a full range of ASA certifications.
Courses generally run for one week and are "Learn and Cruise" which means you learn to sail while cruising in the beautiful secluded Grenadines or the wider, wild Windward Islands. BOSS delivers a true blue water sailing experience second to none.
See the Barefoot Offshore Sailing School website for some of the islands you will visit during your sailing course.
Barefoot Yacht Charters in conjunction with Wavelength Sailing School are now offering Learn-To-Cruise courses both in the Caribbean and Canada. This gives you a unique opportunity to join Basic-Advanced level Learn-to-Cruise certifications as well as Coastal Navigation Certifications in the beautiful Grenadines ! However, if you wish to do some advanced or basic training in Canada, we can also arrange this for you! 
Want to test your knowledge take the
A•B•Sea Nautical Trivia Quiz (Basic)