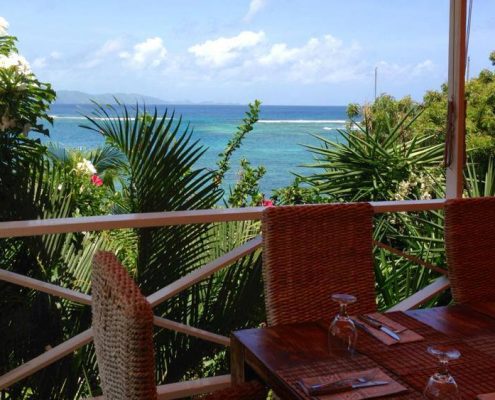 Driftwood Restaurant offers Mediterranean cuisine with a Caribbean flair, a stunning seaward view of Blue Lagoon. We specialize in local, organically grown fruits and veggies.
We source our meats from the oldest butchering family on the island. Our fish come directly from the fisherman who still to this day fish with only hand-lines. At Driftwood we never Freeze fish because it's always fresh. We grow our own fresh, organic herbs right in our restaurant.
At Driftwood the term "farm to table" takes on a whole new life. Come experience the soft breezes that blow as you take in the sunset while enjoying your meal. Our staff has been trained to International standards but brings that extra special "Vincy" smile.
In light of the current circumstances with the Covid-19 virus, Driftwood Restaurant will be taking all necessary steps to protect it's staff and our loyal patrons.
As a result of this, our restaurant will now be closed for all sit down meals, however  TAKE OUT will remain AVAILABLE for you from 11am – 6:30PM DAILY.
We apologise for any inconvenience and thank you for your patience and support through these ever-changing times.
We look forward to serving you in a safe environment.
CALL – +784 456 8999 to place your order.
DOWNLOAD MENU