This year B.O.S.S celebrates our 20th Year anniversary of sharing our Barefoot Offshore Sailing School with a brand new course! What an amazing journey it has been!
Over these years, thousands of sailors have passed through our Basic Learn and Cruise to Bareboat Skippers License courses.
Many of these students have gone on to complete their Advanced Offshore Courses on our exciting St. Lucia – St Maarten 9-day course and further their knowledge with our in-house add-on courses such as our Yachtsman's Rigging and Diesel Engine Courses.
We are proud to welcome our graduates back to the waters of St Vincent and the Grenadines, to go on charter and partake in our very own homegrown courses.
A brand new course we are most excited and pleased to offer is The Barefoot Navigator alongside well-known author Jack Lagan.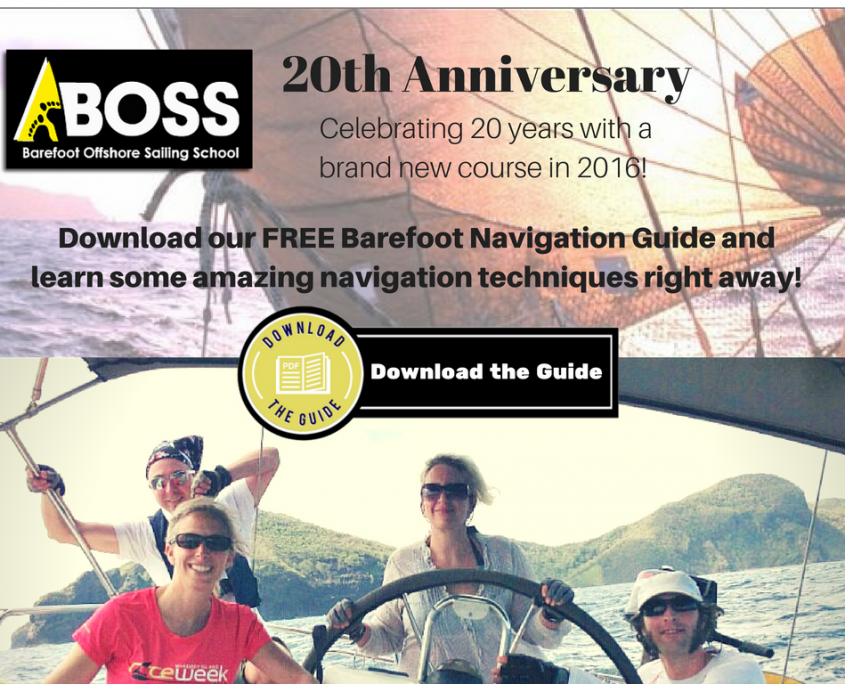 The Barefoot Navigator course has been developed to provide hands on ancient navigation skills. We use everything  around us, from the indigenous birds of the area, wave and wind directions and the stars above to fix our position.
"Come join us as we rekindle the ancient navigation arts through the Barefoot Navigator". Designed to help all sailors reduce their "Zone of Uncertainty" while out on the water. You may ask "how can we possibly do this?" The answer; by rekindling the navigation arts and techniques of the ancient seafarers!
Clients always ask us how are we able to set our prices at such excellent competitive rates. The answer is simple. We are the most active sailing school in the West Indies and have a high volume of clients who take our courses. We also own our own Marina and this helps us cut costs as we do all of our maintenance, turn arounds etc. all at our base.
We invite all sailors, old and new to come and join us as we continue to push forward purposefully to help all better their knowledge and skills both on and off the water. We are pleased to continue offering the full sleeve of ASA (American Sailing Association) Courses alongside our BOSS courses.
Come join us for some fun learning in the sun!

https://barefootyachts.com/beta/wp-content/uploads/Cheers-2-1.png
768
1024
Marissa Barnard
https://barefootyachts.com/beta/wp-content/uploads/barefoot-vectorized-final-300x99.png
Marissa Barnard
2016-09-07 16:26:01
2016-09-13 16:02:44
A brand new course to celebrate BOSS's 20th Anniversary!