Day 1
Britannia Bay, Mustique
After checking through the yacht, set sail for Britannia Bay, Mustique, an easy 2.5 hour reach (17 miles). (Note: the easiest approach to Mustique is from St Vincent, rather than from Bequia or from the central Grenadines which would place you hard on the wind). En route to Mustique, pass the uninhabited islands of Battowia, Baliceaux and The Pillories. Approach Britannia Bay from the north (avoiding Montezuma shoals which lie about 800 yards offshore but are clearly marked – interesting snorkelling or diving with a wreck on the reef).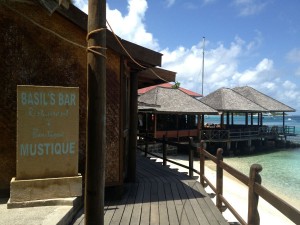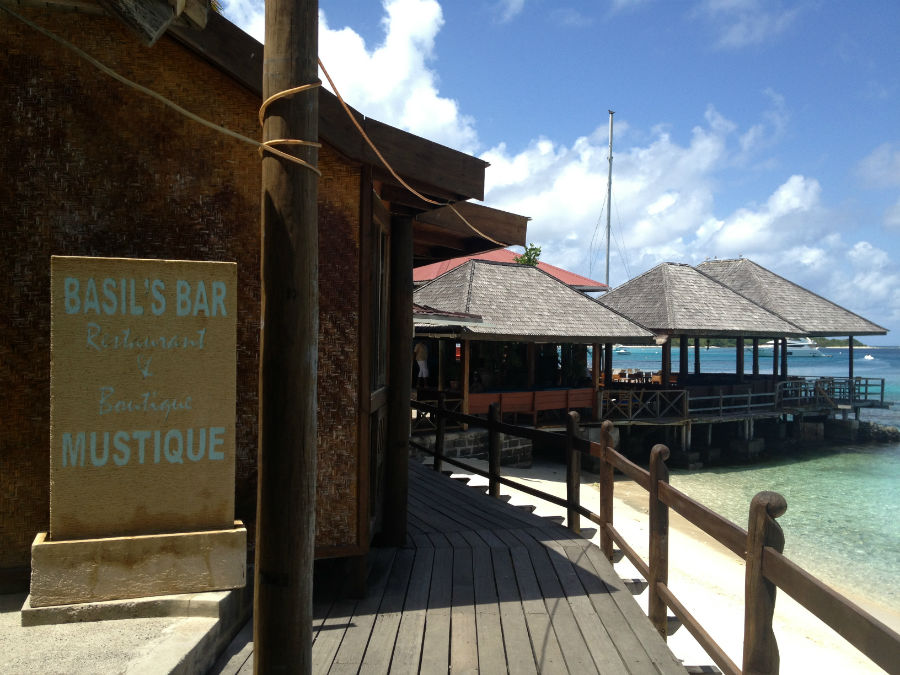 Britannia Bay is the one place in the Grenadines where it's mandatory to pick up a mooring buoy. The most comfortable spot is just south of the small cargo ship dock (the anchorage can get a bit rolly if there are swells out of the north east – in which case it's a good idea to set bow and stern anchors). No need to reserve in advance, it's a first-come first-served basis and, unlike in the BVI, you don't need to be worried about not finding space if you arrive after 2.00 p.m..
At some stage during your visit, someone will come out in a launch and will charge you $ 75 for the mooring – this entitles you to a 3-day permit. There is a mooring office close to the dinghy dock but it's often closed. Note that Mustique is a marine park and so fishing or removal of anything from the waters surrounding the island is illegal up to 1,000 yards offshore. Whilst the island is well known for its stately villas and famous inhabitants, what's more important are the beautiful beaches. From the main anchorage it's a leisurely 25-minute stroll south to Lagoon Bay. Golden sand beach, fringed with palm trees, a couple of picnic areas with wooden umbrellas and tables, and not a human being or building in sight.
On a clear day you can see all the way down to Petite Martinique. From the dinghy dock, famous Basil's Bar is just a minute's walk to the north. Spectacular surroundings – white sand beach, sparkling blue water and a wonderful ambience. What a great place for a cocktail! On Wednesday and Sunday nights, the "jump-up" at Basil's can be a lot of fun. A "must" in Mustique is Firefly – a wonderful restaurant built in what used to be one of the great private villas of Mustique. It's perched halfway up the hillside overlooking the anchorage, and is stunningly beautiful – marble counters, giant ferns, a grand piano, Balinese furniture, two freshwater pools and a beautiful restaurant and bar. The food is first-rate and the prices moderater – but even if you don't want to eat, you should still go there to savour the ambience. It's fairly small so a good idea to book in advance if you plan to eat – unlike everyone else in the Grenadines who listens on VHF 68, Firefly monitors VHF Channel 10. It's the sort of place where one might be tempted to wander in for lunch at noon, and wander out again at three o'clock the next morning. Impromptu performances from famous musicians are a regular feature. If you don't fancy the steep up-hill walk, call owner Stan on the VHF and if he's not busy he will send one of his staff down in a vehicle to give you a lift.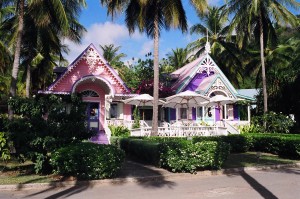 Close to Basil's are a couple of food stores where you can get your Iranian caviar and Norwegian smoked salmon – and also excellent Italian bread baked by a real Italian baker. But don't plan on doing any major provisioning there – these stores are expensive. There are also a couple of (expensive) boutiques, and a little fishing village just north of Basil's, where you can pick up fresh fish directly from the fishermen. For those who fancy a gallop down a deserted beach, thoroughbred horses can be rented by the hour. But for those who don't ride horses, I'd recommend they rented a "mule" – not a donkey, but a gasoline-powered cross between a mini moke and a golf cart. Ask the bartender at Basil's, and he'll call up the company who rents them (around $US 90 for a full day). Renting a "mule" is lots of fun and enables you not only to get around and explore some of the amazing villas, but also to access some of the best beaches which are a little too far to walk to from the anchorage.
MACARONI beach on the east coast must rate as one of the Caribbean's ten top beaches – half a mile of fine white sand, with turquoise waves rolling in from the Atlantic, safe swimming, and a picnic area under the palms.
The hotel also has a freshwater pool with a pool bar, and a water-sports centre with Hobie Cats, windsurfers and dive facilities. If you need ice, you can get it at Basil's – but you won't be able to get water or diesel in Mustique. Well, that's Mustique – if you're looking for wonderful ambience and a genteel atmosphere, great beaches and a couple of excellent restaurants, this is the place.
The Cotton House hotel is definitely worth a visit – formerly a 19th-century sugar and cotton plantation, the hotel has been beautifully restored to its original grandeur. There's a fantastic restaurant there – but it's expensive and rather formal (long trousers for gentlemen for dinner). They also have an informal beach restaurant which is reasonably-priced and a good option for lunch.